Why My Wedding Book the virtual album.
Not so long ago, a wedding used to be an intimate ceremony, celebrated with our relatives and closest friends, in that sweet little place just around the corner. The best moments of that special day would be eternised in a few, precious photographs to treasure jealously in an elegant, though heavy and costly, wedding album. To share those unique memories meant to invite friends and relatives over to leaf through the volume, or to start off for an extenuating and repetitive photo-showing tour, visiting house after house, with the constant risk of damaging that unique book.

Since then, times have changed. Thanks to the advent of digital technologies, the instants captured by the photographer's knowing eye have multiplied, caught by the camera to embody the personal style of each couple: traditional, innovative, serious, funny, dramatic, daring, romantic. Photos have turned into images to play with, to edit, to better: they are now a perfect means to convey the unique character of the newly married couple.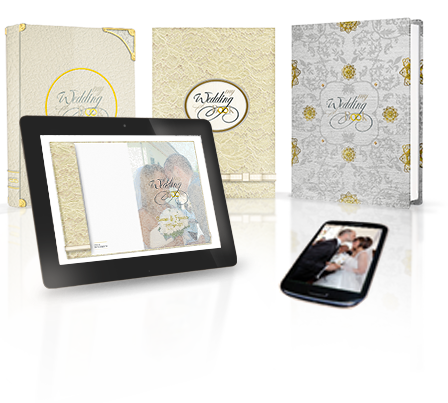 Now that low-cost tourism and international opportunities have turned the world into a space to explore
–a land of possibilities and constant exchange– too often brides and grooms have to realize their wedding dream far from their home, their relatives, their friends. Life is becoming more and more hectic, while a pile of chaotic activities often turns our days into a whirl of tasks and duties: so much so that to patiently leaf through the pages of a Wedding Book together with friends and relatives has become a luxury for the few.

The perfect solution to all these problems comes from the talent of those who know how to use the new technologies to create high-quality, stylish, and tasteful products. Products that are always with you, indestructible and safe, ready to be shared with all your dear ones. Products that enhance the photographer's art, so that everyone can fully appreciated its beauty without sacrificing the pleasure of turning the pages of a precious volume, any time you want. Digital, virtual, interactive albums like My Wedding Book.

My Wedding Book
My Wedding Book is an all-digital, virtual photo album that reproduces to the smallest detail a tangible wedding book, while adding all the advantages of an on-line resource: easy access, portability, and interactivity.
Customisable, versatile and always available, My Wedding Book guarantees absolute safety.
Not only can you upload up to 200 photos and image compositions, but you can also add a direct link to your wedding video.
Ready to leaf through from PC, Smartphone, and Tablet, My Wedding Book recreates the charm and elegance of a traditional wedding book: you can choose between different cover styles and decorations, still without missing out on the pleasure and surprise of turning page after page to find out what's concealed under the tissue paper.

Why is My Wedding Book exclusive?
My Wedding Book has that extra oomph that makes it as unique as you are. Entirely interactive, it's tailored on your needs: you can rearrange your photos and personalise the layout with captions, headlines, and graphic effects. All this, whenever you want.
The exclusive Guestbook was designed so that relatives and friends may leave their wishes, comments, and messages to the bride and groom from all corners of the world.
My Wedding Book hosts up to 200 photos that can be edited and rearranged directly by the bride and groom. You may also add the direct link to your wedding videoclip.

Quality and Safety
All the qualities and advantages of My Wedding Book are enclosed within a shell of privacy and safety. The Book is only accessible on invitation, so that the bride and groom may decide with whom to share their best memories. Guests will receive personal access credits in a software-generated email.

Duration
My Wedding Book will be available for one year from the activation date. Renewal will be possible before expiration at the special price of 35 Euros. Once renewed, the album will remain online for another year, maintaining all its qualities and advantages. Should you choose not to renew your subscription, you will have the chance to download a document containing both the album and the Guestbook, yours to treasure forever on PC, Smartphone, and Tablet.

Advantages for the Photographer
Not only will photographers be able to offer their customers a creative, innovative, and young product: they will also find a showcase where to exhibit their work and contacts on My Wedding Book official website and on the major social networks. The photographer's signature will be visible on all the virtual books, and her/his contacts will be available in the dedicated section of the international website www.italyweddingbook.com.
The photographer will also have the chance to use My Wedding Book as a preview to help bride and groom select their photos, or as a sample album to illustrate the service to potential customers.
Should bride and groom agree, on the wedding day the photographer can inform all the guests of the date when photos and videoclip will be ready to view, by supplying a collective username and password.